Come see us at these beautiful farmers markets each week and pickup your fresh, tasty Yellow Bell Farm whole chicken, delicious fresh eggs, our very popular Bourbon Chicken Liver Pate and our Chicken Bone Broth! Delicious YBF Pickled Eggs too!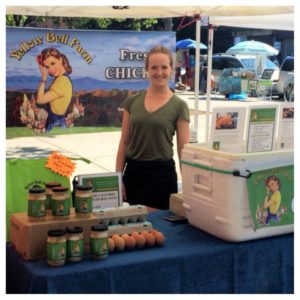 All Yellow Bell Farm products are available locally at the Migliorelli Farmstands in Red Hook and Rhinebeck!
New!! Adams Fairacre Farms in Kingston is now carrying our FRESH Yellow Bell Farm Chicken!
WEDNESDAY YEAR ROUND 
Wednesday 8 a.m. to 4 p.m. Year Round
16th Street side of Union Square Park
SATURDAY WINTER MARKETS
Saturday 9:00am – 1:00pm Year Round
INDOOR MKT-40 Romer Ave, Pleasantville, NY 10570 
Ossining Down to Earth Farmers' Market
Saturday 8:30 to 2:00 Year Round
INDOOR MKT-First Presbyterian Church of Ossining (starting Jan 7th)
Greenwich Street between Chambers and Duane.
Saturday 8:00-3:00 Year Round
Subway: 1,2,3 to Chambers St.
Bus: M20, M2
Washington Park btwn DeKalb & Willoughby, Brooklyn
(Located along the southeast corner of Fort Greene Park)
Saturday Year Round 8:00 a.m. -4p.m.

SUNDAY WINTER MARKETS
Columbus Ave between 78th and 81th St.
Sunday Year Round, 9:00-5:00

Park Slope Down To Earth Market

5th Ave and 4th Street (in front of PS51)Brooklyn
Sunday Year Round 10:00-4:00 (usually open earlier)
Carroll St, between Smith and Court Sts, Brooklyn 
Open Sundays, year-round
Market Hours: 8:00 a.m. – 3:00 p.m.